The House in the Sky, 2016
In collaboration with Sascha Pohflepp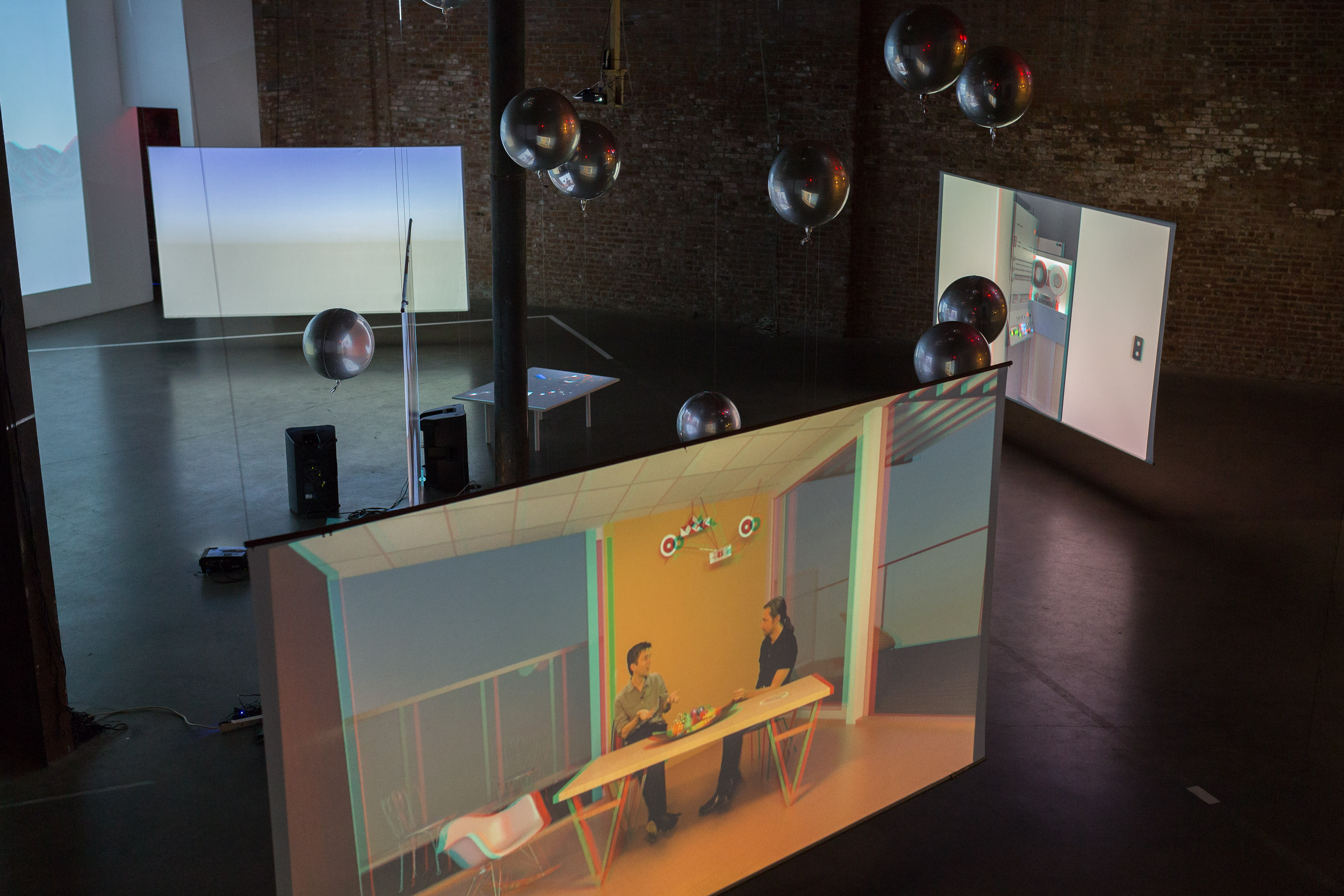 The House in the Sky is a video installation of anaglyph stereoscopic projections mapped onto Pioneer Works' exhibition space. The projections re-create the mid-century modern Los Angeles home of RAND Corporation strategists Alfred and Roberta Wohlstetter, which was the site of one of the earliest think tanks. An "atomic Villa Diodati," as Geoff Manaugh noted, the house was where possible futures were discussed along with the end of the world. Occurring in the 1950s during the Cold War, these conversations dwelled on a future that seemed especially precarious.
Modeled on photographs of the residence taken by
Julius Shulman
and
Leonard Mccombe
, the videos re-stage these interdisciplinary meetings. In the process, these videos become a virtual territory in which performances, readings, and a real-time simulation titled Leibniz Cocktail Conjecture aim to investigate relationships between architecture and critical inquiry, technological acceleration, and our place within history – both in regards to the past as well as our speculative future.
Conversation participants: Laura Ballantyne-Brodie (NYU), Lars Büsing (Google DeepMind), Claire Evans (YACHT), Jacob Gaboury (Stony Brook University/Max Planck Institute), Sam Hart (Avant.org/Sloan-Kettering), Janna Levin (Columbia University), Kate Marvel (NASA Goddard Institute), Nicola Masciandaro (Brooklyn College), Oliver Medvedik (Genspace), Gavin Schmidt (NASA Goddard Institute), Kevin Slavin (MIT Media Lab) and Roberta Wohlstetter read by Joan Wohlstetter-Hall as well as contributors Geoff Manaugh (BLDGBLOG) and Phillip Stearns.

Developed with the support Pioneer Works, Eyebeam, Museum of Art and Design, Guesthouse Residency and the Headlands Center for the Arts